What is Diamond Glacier Ice Melter?
When you break down Diamond Glacier Ice Melter, it's the inorganic compound known as Calcium Chloride. Calcium Chloride is one of the most efficient materials when it comes to melting and breaking down the ice. The material has the best balance between speed and efficiency when melting ice at a steady, synced pace. This material continually generates heat, which causes a synergistic effect that makes the other ingredients and materials in the compound improve the effective temperature rate. Thus, Diamond Glacier Ice Melter is one of the most effective ice melter (non-regulated) on the current market today.
Diamond Glacier Products
All of our Diamond Glacier Products are meant to deal with some of the harshest conditions that any extreme cold environment throws at it. These products can be effective from anywhere from -23 Degrees Celcius (-9.4 Degrees Fahrenheit) down to even further -30 Degrees Celcius (-22 Degrees Fahrenheit). These products were designed to take on the harsh, tough conditions of winter, but still, perform at a high level for an extended period. We stand behind the durability, long-lasting, and high-quality materials that make up our Diamond Glacier Products.
Diamond Glacier – Supreme
Our Diamond Glacier Supreme product can be used in a wide variety of high intensive cold environments (i.e. highways/roadways during the winter months). This product contains the following materials: Calcium Chloride, Sodium Chloride, Magnesium Chloride, and Potassium Chloride. All of these materials in Diamond Galcier Supreme provide high-end and long-lasting performance in very cold and icy environments, which can perform in cold environments as low as -31 Degrees Celcius (-23.8 Degrees Fahrenheit). Dimond Glacier Supreme is available in a 16kg (35.3lbs) pail and a 20kg (44.1lbs) bag.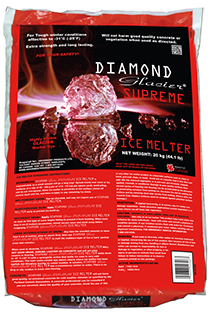 Diamond Glacier – Economical
Our Diamond Glacier Economical product is a mix of Glacier Blue and Glacier Green soluble marker in our Diamond Glacier. This allows our product to avoid over-application and excess material being used in a given area or space. The environmentally inert dye that is used in the Diamond Glacier Economical material shows the exact area that the product was applied, which gives you a full specific sight of where you place down the material. This reduces the chance of over-application, while at the same time, providing the specific areas that require the product. The dye applied with this product is using a Calcium Chloride Brine carrier, which gives a more effective blend that is more water-soluble and UV sensitive. All of these materials within Diamond Glacier Economical can perform in cold environments as low as -23 Degrees Celcius (-9.4 Degrees Fahrenheit). The product is only available in 20kg (44.1lbs) bags.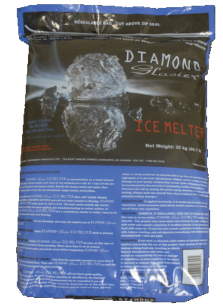 Where Can I Purchase Diamond Glacier Products?
You can purchase our Diamond Glacier Products by checking out our distribution page to see whether or not you are close to an area where you can pick up our product. From there, you can scroll through to find different locations, phone numbers, and links to where you can purchase the product.
If you prefer to reach out to us directly, then you are more than welcome to contact us and we can help you purchase the Diamond Glacier Products. You can go to our contact page on our website by clicking this link and submitting any questions, inquiries, or suggestions you might have for us around Diamond Glacier Products. We look forward to hearing from you!