The results are in…Barn Fresh Plus provides more coverage per bag and absorbs more than three times the amount of liquid than Limestone (Ca). When analyzing remaining airborne ammonia, Barn Fresh Plus outperforms both Limestone (Ca) and Hydrated Lime, leaving zero detected ammonia after twenty four hours.
Barn Fresh Plus absorbs up to 125% of its weight in liquid, suppresses ammonia and odor and contains an antimicrobial and moisture activated scenting agent to help eliminate additional bacterial odors.
In addition to its ability to outperform other odor control, ammonia control and absorbent products, Barn Fresh Plus, unlike Hydrated Lime, is safe to handle, is not toxic or caustic and requires no special equipment or handling.
Barn Fresh Plus is also produced at a specific granulation in order to reduce dust.
Barn Fresh Plus can be used in calf hutches, under bedding, over sand and in any other area that is prone to be exposed to moisture and ammonia. Barn Fresh Plus is also often tilled into top soil in open lots to help absorb and dry out the lot and to reduce ammonia. Please note: Barn Fresh Plus contains a scenting agent and antimicrobial. The product should not be tilled into soil that will be used for growing food.
Barn Fresh Plus, when used in calf hutches, will absorb ammonia and reduce bacterial odors that attract flies and other insects. Barn Fresh Plus will also help create a drier, healthier environment while calves are in their hutches.
Application:
Barn Fresh Plus is best applied after cleaning out the hutches and before the calves are placed back into them for their 6-9 week hutch interval. However, the product is safe, non-caustic and non-corrosive and can be applied with cattle present, if needed.
Recommended application rate in calf hutches is 10 lb per 100 sq. ft.
Test Results: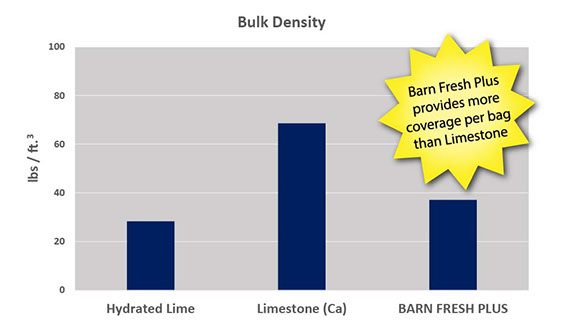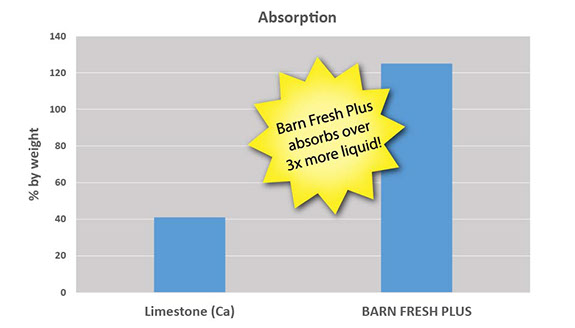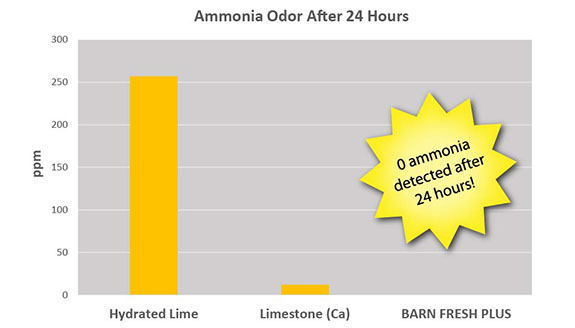 Image by boered