Duke (formerly known as Luxor), a purebred German Shepherd, came to the Imminent Danger German Shepherd Rescue back in June/July of 2011. He was pulled from a shelter in a nearby county and at the time was very, very sick. He was 75% covered in Demodex mange, his body covered in bleeding, oozing, puss-filled sores. The shelter had put a chemical on Duke and the Imminent Danger German Shepherd Rescue was told not to bathe him. Upon arrival at his new home, Duke was bathed in food grade diatomaceous earth and continued to be bathed in DE everyday for over two weeks. He was also fed nutraceuticals and within 2-3 weeks Duke began to grow back his fur.
Thanks to the help and support of the Imminent Danger German Shepherd Rescue, Duke is now a healthy dog. He has completed his Canine Good Citizen training and Therapy Dog training and will become a therapy dog that will visit nursing homes and hospitals. "He most definitely has the temperament for it. I knew it from the moment I met him, calm sweet boy, you don't get pups in everyday who have that disposition, but he's got it and will make a great therapy dog", says Deborah, the founder and operator of Imminent Danger German Shepherd Rescue. "He's got a great home, and has great opportunities and will be a true blessing to others in his service."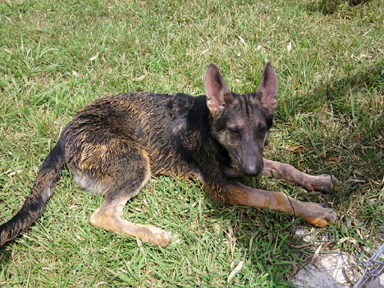 A Healthy Duke playing outside.