What Is Oil Gator Premium?
Our Oil Gator Premium is an all-natural biocatalyst absorbent remedy that absorbs oil or any oil-based products up to six times its weight. The product controls and remediates hydrocarbons, which assists in removing the oil from a selected area where you place our product for use. One of the best features of our Oil Gator Premium is that it is 100% safe for you and the environment. This means that any overspill you might have when placing down the remedy, or if you get some of the product on you during use, you will not have to worry about harming yourself or the area you are using Oil Gator Premium.
What Can I Use Oil Gator Premium For?
The one large benefit when it comes to using our Oil Gator Premium is that there are many different scenarios in which you can use this remedy. This all-natural biocatalyst absorbent encapsulates and absorbs hydrocarbons [oil, petrol, diesel, etc.] from any surface on land and can even be used on water-based surfaces as well. There are many different situations in which you can use Oil Gator Premium, which includes oil spills on an industrial site, stops the spill of oil and its contaminants from spreading in a specific area [land & underwater surfac], an oil-based leak in your garage at home, and many other situations in which our product can work wonders for you. If you have any questions about what Oil Gator Premium can do for you or you want to enquire about the different uses of our product, please reach out to our team and contact us.
Our Oil Gator – All Natural Biocatalyst Product
The Oil Gator Premium remedy is a produced product from chemically, recycled modified cellulosic fibers that contain the appropriate amount of ingredients [included are nitrogen, supfur, and phosphorous] that enhance the biodegradation of hydrocarbons by indigenous bacteria, which is why it can absorb up to six times its weight. This means that our product can remove all of the toxins within any oil and it breaks down all of the harmful ingredients.
Our Oil Gator Premium comes in a packaged bag that is 1.5 cubic meters in overall size, but it weighs approximately 13.5 kg (or 30 lbs a bag) per bag and each bag of Oil Gator is approximately 60 bags per pallet.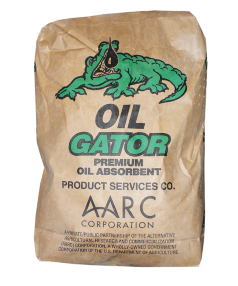 Where Can I Purchase Oil Gator Premium?
You can purchase Oil Gator Premium by checking out our distribution page to see whether or not you are close to an area where you can pick up our product. From there, you can scroll through to find different locations, phone numbers, and links to where you can purchase the product.
If you prefer to reach out to us directly, then you are more than welcome to contact us and we can help you purchase Oil Gator Premium. You can go to our contact page on our website by clicking this link and submitting any questions, inquiries, or suggestions you might have for us regarding our product. We look forward to hearing from you!